Driveway Pavers in Queens, NY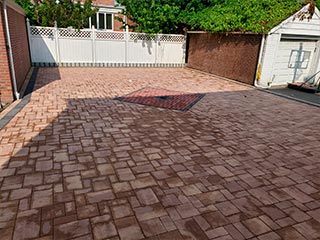 Your driveway is among the most heavily trafficked areas of your home, subjected to oil stains, dirt, and debris from foot and car traffic and the sun's powerful ultraviolet radiation. It's no wonder that it rapidly turns bland and lifeless. That's why the contractors at Vinny & Son Contracting Corp. in Queens, NY, suggest you should put in a paver driveway.

We know what it takes to ensure that the driveway we build on your site can withstand the conditions described above. As a locally owned and operated company, we recognize the importance of providing our customers with solutions that will last. That's why we always pick the highest quality materials.


Paving Stones for Driveways
We recommend a paver driveway since some homeowners have reservations about concrete slabs, asphalt, and gravel driveways. Today, many pavers constructed of brickwork, stone, and concrete are readily available. The kind with an interlocking design is likewise fantastic in every aspect. We can improve the aesthetic value of your property's exterior areas by installing whatever outdoor pavers you choose.


Benefits of Driveway Pavers
Driveway pavers are an option if you're weary of your driveway detracting from the aesthetic value of your property. It is possible to raise the curb appeal of your property and its resale value by exchanging the concrete in your driveway for pavers that are laid in a distinctive design. Here are a few of the benefits:


Durability
Cracks in concrete and asphalt are no secret to us. Driveway pavers are more robust and can take the weight of vehicles better than either. Additionally, you can rest easy knowing that your driveway will continue to look wonderful year after year due to the interlocking design and the ability to "breathe" and gradually move with temperature fluctuations. Because they stand up to both foot and car traffic, they are the material of choice for both private and public driveways.


No Stains
Stains from oil leaks, spillage, or rubber can be avoided using paver sealer. To remove stains from your paver driveway, spray them with water. When necessary, seal coating the paver driveway every three years will keep the driveway's surfaces protected and looking fabulous.


Easy To Replace
You can patch the cracks or damage in a concrete driveway individually, but this will leave noticeably discolored regions. In comparison, concrete pavers are individual units, and you don't have to worry about this aspect. We can repair any damage easily by replacing the cracked or broken units without upsetting the rest of the surfaces.


Multiple Colors
Pavers are an excellent option for achieving a harmonious look with the outside of your house and the surrounding landscape. Paver colors range from classic gentle and subdued to contemporary strong and sophisticated palettes. Pavers, in contrast to asphalt/concrete, give you more freedom to express yourself via color.


Patterns
Using pavers, you can make your driveway seem unique from everyone else's. A wide variety of paver sizes and shapes are available, allowing you to create a unique and eye-catching pattern that will complement your home's aesthetic.


Installation
Driveway pavers are a quick and simple alternative to asphalt or concrete driveways since they can be laid down within a few days. Another advantage of using pavers is that you may start using your new driveway immediately after it is built. The curing period for asphalt and concrete is rather long.

We offer high-quality, affordable concrete paver driveway installations in Queens, NY, for residential and commercial properties. For more details about paver driveway installations and our other services, call Vinny & Son Contracting Corporation at 718-539-0524 or 718-216-8172. You can also send us your queries via this Online Form, and one of our skilled team members will call you back to discuss your requirements.