SIDEWALKS, SIDEWALK VIOLATIONS REMOVED QUEENS, NY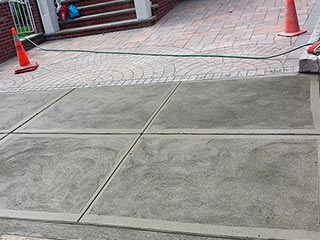 Often misunderstood as only a concrete border along streets and roads, sidewalks are, in fact, much more than that. Many landscape designs include these surfaces alongside other elements. No matter how big or small your garden or backyard is, you'll need pathways or sidewalks to get about without stepping on the grass or the flowers.

As part of every landscaping job, we at Vinny & Son Contracting Corporation also take care of the sidewalk layout. These components can be extremely simple or elaborate, depending on the client's needs. We put a lot of thought into such projects and install the pavers systematically and creatively.


Aspects of Sidewalk Design
We consider many aspects while designing this relatively surface, including the following:


The sidewalk's dimensions
The location of the sidewalk
Any existing hindrances
Additional hardscape components
The material to be used for sidewalk paving
Whether you need an edging or a border
Other

We can install sidewalks along the road to your entrance and around your property to protect your grass and plants from damage.


Sidewalk Pavers
Pavers are an excellent option for these outdoor spaces and are highly recommended. The following are some of the pavers from which to choose:


Brick pavers are a time-honored choice that never goes out of style. This material is popular with buyers thanks to its adaptability; it can be used in classic and modern architectural styles. Brick paving lasts long, requires little care, and looks exceptionally natural.


Many homeowners favor concrete pavers because they are durable, aesthetically pleasing, and require little upkeep. Concrete pavers can be used for various outdoor surfaces, including walkways, patios, and driveways, and it becomes easy to coordinate the sidewalk design to these surfaces. You can choose from multiple shapes, sizes, colors, and interlocking patterns! The cost of this material is far lower than that of stone or brick.


A natural stone paver walkway along your property is an attractive addition. Your paving options include slate, flagstone, bluestone, and travertine. Additionally, you can select a smooth or rough stone finish. Using this material will offer your home a unique appeal while also being low maintenance. It costs more than concrete/ brick but doesn't need care for decades.
How To Get Sidewalk Violations Removed
Even if there is no initial fine for a sidewalk violation in NY, it can still look bad for your business if it remains on your record for an extended period. Naturally, this is something that takes time to be accomplished. You must follow a process before the violation is removed. You won't have to make much effort because we can help. If you stick to the rules, you shouldn't have trouble clearing up a sidewalk violation.


We Help With Sidewalk Violation Removals
What prompted the issuing of a citation for trespassing on a sidewalk? For the simple reason that something got broken or needed correct installation. Fixing it will necessitate a sidewalk repair in any instance. The DOT will want a professional to fix your sidewalk problems. Therefore, it's clear that you need to hire one.

Therefore, as soon as you receive that notice of violation, you should contact a competent sidewalk repair company like us. As your go-to sidewalk specialists, we know what it takes to get your sidewalks up to code and how to keep them that way.

For more details about sidewalks and sidewalk violation removals and our other masonry services, call Vinny & Son Contracting Corporation at 718-539-0524 or 718-216-8172. You can also send us your queries via this Online Form, and one of our skilled team members will call you back to discuss your requirements.