Staircases & Patios Queens, NY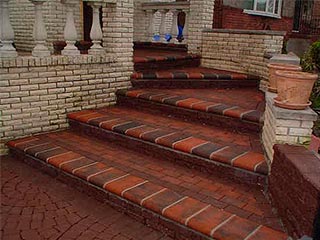 Vinny & Son Contracting Corporation is among the few names you can trust in the state for landscaping and home renovation. We do more than just patios; we also design and construct staircases and offer other hardscaping services at reasonable prices.

We can help you choose the best and most cost-effective outdoor landscape facilities and systems. We also offer trustworthy recommendations on the best patio designs and materials to use, making it a point to include the individuality and character of our clients in each project.


Staircase Design and Installation
We can construct any residential staircase you may imagine. Our masonry, concrete, and wooden stairways are a unique point of pride. You may be sure that these materials' aesthetic quality and durability are top-notch because they are acquired from the most outstanding manufacturers and suppliers.


Types of Staircases We Can Install
Several staircase designs are better suited to rooms and floor plans. Here are some of the most frequent, and our suggestions on where to place them inside a home:


Straight: Straight staircases are the most common, and you get these in three different variations. The first is a horizontal line that runs exactly from the staircase from top to bottom. The second one travels in a straight path before making a sharp turn towards the right or left. The third and final layout resembles a capital letter "T," with a vertical "T" formed by a straight line from the very top to two horizontal "legs," one on each side. The T shape is typically installed smack dab in the center of the home for maximum grandiosity and drama.


Spiral: These are perfect for studio apartments or tiny houses. Due to its compact size, you can install this vertically anywhere.


Circular: The circular staircase is typically associated with lighthouses, yet it is at home in residential settings. This one, however, is unusual in the sphere of private homes.


Freestanding: It's a terrific space saving and more convenient for foot traffic because the stairs are freestanding. It can also be installed anywhere the homeowner wants it to be.


Elliptical: Those of the elliptical variety adhere to the shape of the wall, and their steps can be any length. Commonly installed on or mounted on walls.
Patio Design and Installation
Adding a patio to your home is a great way to provide a place to rest and relax. If the best materials are used, and the craftsmanship is exceptional, you won't even need to leave your home to feel at one with nature.

You can lend your property that personal touch by choosing the best style. Patios can be open or enclosed; they can have glass windows or walls that can be moved; they can have fixed or moveable furniture; they can use natural stones or interlocking concrete pavers for flooring.


Types of Pavers for Patios
These are some of the available paving materials:


Brick Pavers- These have a rustic and organic look and bled beautifully with various landscaping elements
Natural Stone- These are slightly more expensive than concrete and brick pavers but have a unique appeal, hard to beat.
Interlocking Concrete Pavers- These cost-effective installations are available in a range of colors and patterns while providing durability and ease of maintenance.

If you are looking for high-quality staircases and patio designs and installations, you are at the right place. For more details about staircases and patios in Queens, NY, call Vinny & Son Contracting Corporation at 718-539-0524 or 718-216-8172. You can also send us your queries via this Online Form and one of our skilled team members will call you back to discuss your requirements.